On a hike this week, long away from the noise of civilization and in the roughness of coastal nature I sat on an enormous rock looking at the sea when I silently asked; what would you like me to say on Monday morning?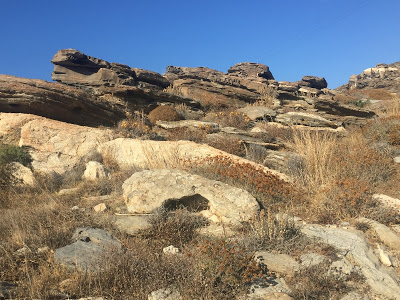 The answer came not from the deep blue of the ocean, or the mineral giant on which I sat, but from the tiny sturdy bushes and flowers around me. These little beings dried almost entirely by the sun-washed by the salty air and starved by the rocky ground in which they grow. Despite their wonderful earthy golden yellow, burnt brown and green colors scattered with a single white flower here and there, they are easily overlooked in this rocky landscape.
They told me to tell you that they sing. They have a song. Each species of plant and bush have their own melody; sweet and low or high and flourishing depending on the season, the age of the plant and whom it sings too.
It made me think! What if humanity as a species remembered their collective song? I mean humanity's original collective song, without the disharmonies with which we sing at the moment­- then what? What would this Earth look like then?
You might also like